This is the final installment of a series by My Tam Nguyen, friend of the Bus and all around awesome person. Check our part 1 and 2 here and here respectively.

Election Day is here!
Voting is an individual act of pure power; that's one of the things I'm learning as a first time voter. It's like we're a group of millions of ants, all collectively working together, pulling a giant leaf of citizenship to make it to the top of a political anthill. That anthill is not a candidate being voted into office or a law being passed; the top of that anthill is our collective voter registry, our unified willingness to show up for our country and make the best of this democracy. I feel a greater responsibility now to hold my fellow citizens accountable to step up and utilize their personal power. After completing my last phone call tonight, I feel a deep sense of empowerment that I'd participated in the process. In a small way, I was able to contribute to tangible democracy and make a difference.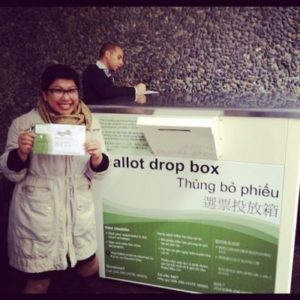 So what did I learn in this journey of first-time voting in the past few weeks that I will apply the next time around when I'm going a second-time voter?
Show Up.
Mark my calendar and make time and space to show up and be at the town halls, candidate meet-and-greets, and local debates. I was quite puzzled by the amount of judges and some of the positions that were elected into office on my ballot: insurance commissioner anyone? I want to show up and personally get to know these people who are vying for my vote.

Ask Questions.
There are so many things I still have questions on after filling out my ballot! I would make more time to get all my questions, concerns, and critiques addressed. Though I did do my due diligence and read through the materials and made my decision based on multiple sources, asking and having more of my questions answered  would've made me feel a little bit more confident about my decisions.
Participate.
I participated this time by phone banking. Next time, I would try some door-to-door canvasing, go to more group events, and find more opportunities to participate and advocate for issues and candidates I believe in.
Decide & Conquer.
My ballot is filled, and I'm not sure if you can tell from the picture in my second post, it was a very hard series of decisions. Making an informed choice, then sticking with it, was no easy feat. Maybe that's why they make us do it in black ink pen. There are no second chances or guesses when it comes to voting—you get one vote to pen in what you believe and hope that it sticks and makes a dent in our democracy. I hope that next time around, I feel much more of a sense of conquering and completion when I'm done with my ballot.
Party!
The Facebook feed and my Gmail are infiltrated with invites to election parties.  Where have I been all these years? I've never attended an election party before, and by the sounds of it, there's going to be big celebration in Seattle tomorrow. Parties are being hosted at the homes of politicians, in hotel lobbies, at banquet halls, restaurants, ballrooms, and music venues! What a great summation to the democratic process…working really hard to rally for what we believe in, then collectively celebrating when the ballots are in. That's potentially the greatest thing about being a voter: we're individually free and have the right to contribute to a collective, fair, and equal process in this country—and that's enough to celebrate in itself.
This whole voting journey takes alot more time than I'd thought from my first post. In answering the question I'd posed for myself, am I a good citizen? I feel like I'm one step closer by submitting my first ballot and doing everything in my power to be as informed as I possibly can in making each decision. I feel more obligated to encourage others to research, understand the impact and power of their vote, and to show up and submit their ballot. The true answer is that a good citizen is someone who strives to continually be a better citizen.  There's always more we can do to fulfill our civic duties.
See you next time, fellow ballot conquerers!