Twenty percent of 18 to 24-year-olds do not have a government-issued photo ID. In the ten states shown below, those young people without IDs will be unable to vote in November.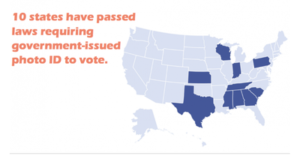 Obtaining a photo ID is more difficult than you would expect. Offices that issue photo IDs have limited business hours and are often found in rural areas where there is limited public transportation. On top of that, it can cost between $8-$25 to obtain a birth certificate (which is needed to get a photo ID). The Brennan Center for Justice outlines the difficulties of obtaining a photo ID in this comprehensive report.
What's the reason behind these laws? Proponents argue that voter ID laws help ensure the integrity of elections by preventing voter fraud. The reality is that voter fraud does not exist. While there are allegations of non-citizens voting in elections or people voting twice using fake names, that is simply not the case. A report by the Brennan Center for Justice in 2007 found that, "it is more likely that an individual will be struck by lightning than that he will impersonate another voter at the polls."
Your ability to vote in elections should not be determined by how much money you have in your pocket or whether you can visit an office to get an ID. Instead, we should encourage voting and make it easier for everyone to participate in elections. The problem is not apathy, it's access. Laws like the voter ID laws we have seen place an unfair burden on young people.
A recent report by the Jonathan M. Tisch College of Citizenship and Public Service at Tufts found that 44 percent of young adults didn't know if they had to show a government photo ID or a driver's license to vote. Thankfully, here in Washington State photo ID is not required to vote. But if you're attending college out of state and are considering voting there, I encourage you to check out this voters' guide from the Brennan Center for Justice.
This blog post was written by 2012 Fellow Tyler Sadonis.