This week's Hella Bus Blog Thirsty Thursday blog post comin' at ya! #knowledgeresponsibly
We've got big news coming out of Buslandia, a place where dreams come true. Do you dream of 100% youth voter turnout? Do you want to befriend other rad civically engaged young people? Do you wish you could be a real-life superhero? Whatever your dream is, we're proud to announce The Bustice League™, our brand spankin' new volunteer program created with the stuff that dreams are made of.
Members of the Bustice League are the super-volunteers that help our voter registration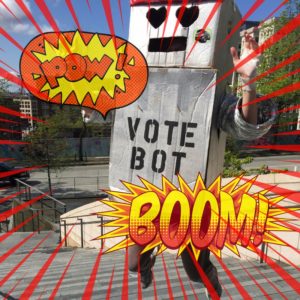 and campaign work succeed. Super-volunteers commit to a certain number of volunteer hours per month. The opportunities are varied and endless–you could register voters at Bumbershoot, testify at city council, create a zine, or help out around the office. Joining the Bustice League gets you access to #firstdibs at music festival volunteer shifts, bus swag, an opportunity to build up your organizing skills, and of course, a once in a lifetime chance to change the world.
The Bustice League is an extension of our leadership development programs, seasonal internship, and sister organization's summer fellowship. The Bustice League is open to people of all ages and experience levels. Have you already completed our fellowship program and want to get back on the Bus? Join the Bustice League! Did you just find out about us at Seattle Pride and want to learn more about volunteering? Join the Bustice League! We'll have fun and meaningful ways for everyone to join.
As staff members, we commit to investing in you and your growth as a young political organizer with a passion for justice. We'll also plan regular social events (happy hour, anyone?) for Bustice League members.
If you like what you've read so far and want to become a defender of democracy, an advocate for justice, and a mighty political organizer, you should join the Bustice League! Come to our official launch party at the Washington Bus office in Pioneer Square on July 6 from 6-8 pm. We'll bring the snacks, and you can bring your friends. Deal? Check out the Facebook event here and don't forget to RSVP! If you can't come to the launch party, but want to learn more about joining the Bustice League, shoot me an e-mail at sophia@washingtonbus.org.
This blog post was written by Sophia Hoffacker, the Bus's own Field Coordinator.