Last week, nearly a thousand people gathered in Town Hall to witness the debate on rent control. The atmosphere was tense and the crowds were restless, highlighting how pressing the issue of housing affordability in Seattle has become.
Seattle City Councilmembers Kshama Sawant and Nick Licata led the argument in favor of rent control. Both Sawant and Licata described the severe burden that the increasing rent prices are placing on low-income households, and called for the need to limit these large price hikes through the rent control policy.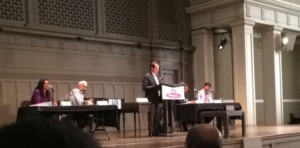 "The housing market is broken, and needs to be fixed," Licata stated, "Without rent control, there is no answer to these skyrocketing rents."
State Rep. Matt Manweller and Roger Valdez, a developer lobbyist, painted a far more negative side of rent control. They explored rent control in cities such as San Francisco and New York, linking the policy with the rise of dilapidated housing and the lack of housing growth in these areas. For them, the problem is centered on the widening disparity between supply and demand, and rent control does not address this.
"Rent control does not work," Valdez asserted, "Build more housing – it's that simple."
However, addressing housing affordable is never that simple. Housing affordability has been a growing problem in Seattle since the late-1970s, and is only getting worse. Even so, history and experts are not on the side of rent control.
The debate was held in a very crowded Town Hall on July 20th, 2015.
In a rare consensus, nearly 93 percent of economists agree that rent control creates more problems than it solves. Nevertheless, Sawant and Licata are convinced that it can work.
"At end of the day, we can recite all facts, but this is about vision," Sawant concluded, "if you want Seattle to be a vibrant, dynamic, and culturally diverse city, then we will need policies like rent control."
Each city is unique, and it is impossible to predict whether such a policy would work. However, if any city could break the pattern, my bet is on Seattle.
This blog post was written by Allen, a rising senior at Duke University and the Bus' 2015 DukeEngage Intern.