On July 22nd, Seattle celebrated the 25th anniversary of the Americans with Disabilities Act (ADA) in Westlake. The first part of the event was devoted to the recognition of donors, sponsors, volunteers, and speakers, and the second half was devoted to a rally.
Over ten organizations volunteered, and the event was sponsored by a number of corporations, government affiliates, and independent donors (I.e. SPD, City Council, the City of Bellevue, Starbucks, Boeing-which-did-not-show-up, etc.).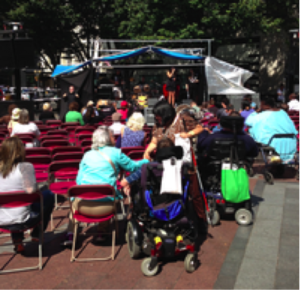 The Executive Director of the Washington State Independent Living Council (WASILC), Emilio Vela Jr., stated that his favorite part of the event was recognizing those affected by disabilities—he pointed to one fellow stating, "This guy right here was one of the first guys to go to college in Kansas and make a case for accessible entrances, transportation, and walkways." He further argued, "disability rights are civil rights… it's about independent living; working and residing where xtyou want, using public transportation, whether you're deaf or blind or a wheelchair user."
One speaker evocatively explained how she had developed a debilitating, "invisible," disability, or a crippling anxiety disorder, and was able to benefit from the ADA  in ways previously thought unimaginable. She claimed, "If it were not for the ADA, [the act] which told my family and my friends, and frankly me, that having a disability is nothing to be ashamed of, I would still be governed by my disability today." Instead, she is making a difference in Washington State, by servicing those living with disabilities, and engaging folks on the importance of the ADA across the state. Her story dually speaks to the ADA's protections for those living with mental illness.
Several politicians spoke to the importance of the ADA. Patty Murray, a Washington senator strongly in support of disability rights at both the state and national levels, left an audio message. She stated, "We have so much to celebrate today, but we must also think about what more can be done." Murray is working to reauthorize the Elementary and Secondary Education Act (ESEA) so that students with disabilities have the opportunity to "work and grow and thrive," in an increasingly inclusive environment.
On a beautiful sunny day, the ADA was celebrated in a crowded city square—visible, potent, and necessary.
This blog post was written by Natalie, a Public Policy major at Duke University and the Bus' 2015 DukeEngage Intern.