Today marks the first day that same-sex couples can legally marry in Washington State.
Not wanting to wait any longer, couples lined up outside the King County Courtroom in downtown Seattle to be married at 12:00 am last night. King County Executive Dow Constantine was there signing Marriage Certificates, as well as Senator Ed Murray, the creator of the Marriage Equality bill in the Senate.
On Sunday, December 9th Seattle City Hall was brimming with couples excited to tie the knot. Judges, city officials, and members of the community came out in droves to volunteer their time in order to make everything come together.
And it was beautiful.
An amazing 138 couples were married in City Hall. Many had been together for decades and are just now able to legally wed. Couples were married at one of five temporary wedding altars, and afterward were led into a reception area where they could give video testimonials about their relationships.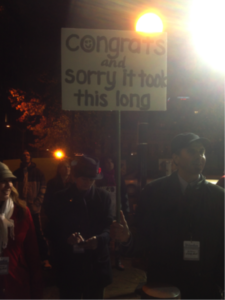 One other congratulation in order: Washington State hit 81% voter turnout, the highest in the nation. These historic events wouldn't have been possible without such huge turnout.
Yesterday was the culmination of years of work, from the dream Senator Ed Murray had for 17 years, to the Marriage Bill passed in January, to the Referendum that voters approved in November, and the weddings all over the state. Being present yesterday was awe inspiring – Washington State affirmed these couples as being completely equal in the eyes of the law. Congratulations to all the happy couples!
This blog post was written by Devin Glaser, longtime friend and volunteer of the Bus.