A Seattle area activist has had it with corporations meddling with elections, and intends to do something about it.
Jeff Reifman has decided that as a city, Seattle should declare that corporations are in fact not people, and is gathering signatures to put Initiative 103 up for a city-wide vote.  The city-wide initiative would eliminate corporate personhood, ban corporate spending on elections, and establish a community bill of rights.
In order to do so, Reifman will need to collect 20,629 signatures from Seattle residents, or 10% of the votes cast during the last mayoral election.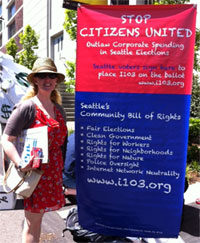 "We are on track to make the ballot," Reifman reported in a phone interview with the Bus Wednesday.  "Possibly not for November, but certainly for next year.  And we need all the help we can get."
Along with restricting corporate personhood and preventing corporations from purchasing local elections, Initiative 103's Community Bill of Rights would extend some pretty innovative rights to Seattle residents.
As an example of the need for reform, Reifman points to Seattle's current legal battle with private phone books companies.
"The city passed the phone book opt-out ordinance.  Immediately one fifth of the city chose to opt out," explained Reifman.  "As soon as they passed the law the phone book company sued, claiming a right to free speech."
"They lost the case within a month, but they've been appealing for over a year.  It's cost the city over $100,000, as these private companies try to overturn what the council wants, what the city wants."
Reifman has clearly done his research.  The initiative replicates successful community rights initiatives that have been passed in Pittsburgh, Pennsylvania and Buffalo, New York.  Currently in Washington both Bellingham and Spokane are attempting to push similar community rights initiatives.
The rights enumerated under the initiative are quite extensive, and made me wonder if the initiative would pass Washington state's Single Subject clause.  In 2000, Tim Eyman's I-695 was struck down in court for covering two topics: setting the price of car tabs and requiring a 2/3rds majority for tax increases.  So I checked with Seattle's law department.
"We don't disqualify initiatives on a single subject rule at this stage," said Monica Simmons in the city clerk's office.   If and only if the law passes, then it could be challenged.

"My research shows that 103 not only complies, but that 90% of the time the courts have ruled with the initiative writer," said Reifman when asked about the Single Subject Rule.  "What the courts are concerned about is whether you are putting in one popular thing with one really unpopular thing."
Regardless of future rulings, Reifman hopes to change the discussion on corporate personhood.
"If 103 passes, that's more than 300,000 Seattleites saying they desire these rights. Things are really out of whack legally, and we are trying to draw attention to that fact."
Reifman is holding a public community meeting this evening in the University District. People interested in learning more are welcome to attend, or can find additional info at http://envisionseattle.org/
This blog post was written by Devin Glaser, longtime friend and volunteer of the Bus.